August 3rd, 2012 → 1:13 pm @ iowawebguy // No Comments
I've been working with Knoxville Raceway now for over 8 years. They are a perfect case study, which I should probably do now that I'm writing about it. It's always fun working with clients that like to invest in new technology and like to be on the forefront.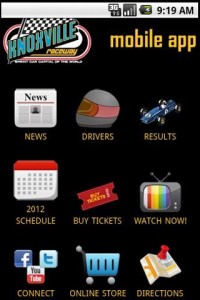 We recently launched a Mobile App available on all major device platforms. The app really gives up-to-the-minute information to the user and provides a portal for fans to interact not only with Knoxville but each other!  (I will write a more detailed blog about the app and app development soon.)
If you're interested in a mobile app or have questions, feel free to give me a shout!
For now, here's the official press release:
Friday, August 03, 2012 (Knoxville, IA) Knoxville Raceway is pleased to announce the launch of their Mobile Apps available on iPhone, Android and BlackBerry.

The apps allow mobile users to access Knoxville Raceway information on-the-go. The mobile app features Live Results, News, Driver Information, Points, Live Results, Schedule, and a social media feed to interact with others talking about #KnoxvilleRaceway.

"This is a great resource for our fans to stay up-to-date on Knoxville Raceway information anywhere in the world." said Brian Stickel, Director of Marketing. "We are excited to continue utilizing state-of-the-art technology at the Sprint Car Capital of the World."

Knoxville Raceway mobile apps were developed by HostIowa.net (http://www.hostiowa.net) and Iowa Web Development (http://www.iowawebdevelopment.com) who has provided web site development and hosting services for Knoxville Raceway since 2004.

The mobile app can be found directly here:

Android: http://bit.ly/T6u7Bn

iPhone: http://bit.ly/Ou1vSh

Blackberry: http://bit.ly/NePXhW