April 21st, 2015 → 12:00 am @ iowawebguy // No Comments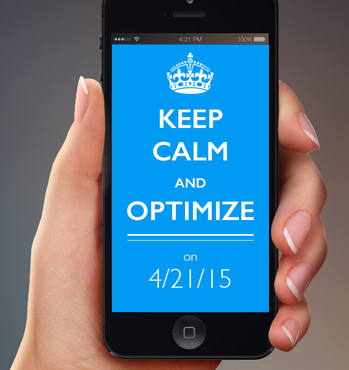 What has become a very hot topic the last few months is Google's new search algorithm update some call "Mobilegeddon."
In late February Google announced it was going to use "mobile-friendliness" as a "ranking signal" in how they rank and display search results.
So get ready! Google is now favoring MOBILE-FRIENLDY websites starting TODAY! April 21, 2015.
Is your site mobile-friendly? You can check using Google's Mobile Test here:
Obviously, every site on the web isn't mobile-friendly… and it takes time to make the transition. Heck some sites may not need to be mobile–it depends on your audience and competition. But you do want to provide the best possible experience for the user.
DON'T FREAK OUT.
I'm not freaking out. Keep calm… This site is not mobile-friendly yet either. All good things take time. Also, don't just do something because it's the buzz. Research. Have a plan. Then execute.
We've been really focused on mobile for the last few years especially responsive web design. We've also been transitioning client sites that rely on search engine results to drive business to their site.
There's not a one-size-fits-all solution and transitions do take time. If you haven't updated your website in the last couple years, this may be the best time!
Here's a link to the Google webmaster article discussing the change.
As always, if you need help or have questions, contact me.
–Iowa Web Guy
Tags: Google, mobile, mobile development, mobile web site, mobile-friendly web site, mobilegeddon, responsive design