June 28th, 2014 → 3:57 pm @ iowawebguy // No Comments
Yep. I said it. Sigh…
I always tell clients to keep their website content up-to-date. Keep it fresh. Keep it new!
(Okay, as you can see… I'm having a hard time finding time finding time to update this site too! So, going forward I am going to TRY to practice what I preach. I always say, "the shoe maker gets their shoes last…" BUT- that shouldn't be an excuse…)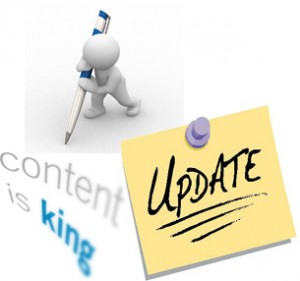 There are many benefits to having updated content on your site, here are a few:
It shows your visitors that you're

doing "something."

Search engines LOVE new, updated content.
Updated content, will

b

ring website visitors back

!
How do we go about doing this?
We all know it's hard to find time, but the easiest way is to set a schedule… hopefully it will be come a routine.
If you're blogging or doing "news" items, you can pre-publish articles and have some in your arsenal so when it's time to post, you

already have them done!

Talk about what you are doing or that project you're working on. There are many benefits of doing this– it's some self-promotion and great for

search engine keywords

.
I cannot stress enough how important a schedule is to website visitors. If you update your site often, they will come back and if it is on a schedule they will know what days to come get fresh content.
A couple examples to end:
Knoxville Raceway has a really good schedule. Races are Saturday nights, so thousands of people across the world go to their website on Saturday nights to view live results. Sundays people come to read the "news" on the nights happenings. Tuesdays there is typically a "Driver Biography or Spotlight" posted to the news. Thursdays is a preview of the upcoming weekends festivities.
Blomgren Seed posts a new video every Monday called the "Blomgren Seed Monday Morning Alert" where they talk about current conditions in fields that they have seen and what to look for in the upcoming week.
Website statistics will also show you trends in your visitors. Most successful websites have their website content on a schedule.
Good Luck!
–Iowa Web Guy