April 21st, 2015 → 12:00 am @ iowawebguy // No Comments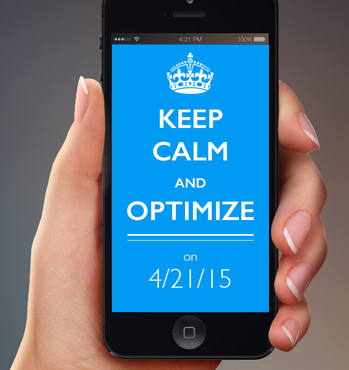 What has become a very hot topic the last few months is Google's new search algorithm update some call "Mobilegeddon."
In late February Google announced it was going to use "mobile-friendliness" as a "ranking signal" in how they rank and display search results.
So get ready! Google is now favoring MOBILE-FRIENLDY websites starting TODAY! April 21, 2015.
Is your site mobile-friendly? You can check using Google's Mobile Test here:
Obviously, every site on the web isn't mobile-friendly… and it takes time to make the transition. Heck some sites may not need to be mobile–it depends on your audience and competition. But you do want to provide the best possible experience for the user.
DON'T FREAK OUT.
I'm not freaking out. Keep calm… This site is not mobile-friendly yet either. All good things take time. Also, don't just do something because it's the buzz. Research. Have a plan. Then execute.
We've been really focused on mobile for the last few years especially responsive web design. We've also been transitioning client sites that rely on search engine results to drive business to their site.
There's not a one-size-fits-all solution and transitions do take time. If you haven't updated your website in the last couple years, this may be the best time!
Here's a link to the Google webmaster article discussing the change.
As always, if you need help or have questions, contact me.
–Iowa Web Guy
September 27th, 2012 → 10:30 am @ iowawebguy // One Comment
This is a test blog from the Grand View class.
Today I spoke to a class at Grand View University on the basics of web design and development.
We jumped into the elements of a web page, HTML (Hyper Text Markup Language) and CSS (Cascading Sheet Styles).
After explaining some basic HTML codes we jumped in actually writing a webpage from scratch in a text editor. We added headings, images, paragraphs, links and even embedded a Google Map.
Now that we had a basic webpage with no formatting, we styled the page by centering, added a background color, formatted headings and fonts.
Then we added an additional web page and applied the external stylesheet to both pages so we only had to change styles in one file, not every HTML file.
Finally, after learning the basics of HTML and styles, I brought the students to this blog and showed them how a WYSIWYG editor actually applies the HTML coding behind the scenes. 
This is an example of how to add (embed) a Google Map in the HTML view.
After this class, I believe the students left with a greater understanding and appreciation in what goes into building a web site.
— Iowa Web Guy
September 12th, 2011 → 11:06 pm @ iowawebguy // No Comments
I was sitting with a new client today and one of the first questions she had was "Why do I have a lot of 'empty space' on each side of my web site?"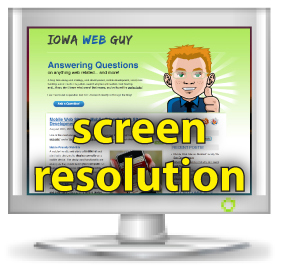 I immediately thought, "I need to blog about this!" I get this question ALL the time when I'm talking with people when discussing web site layout.
The answer is a little complicated, but here we go:
Computer monitors vary in "screen resolution" or available display space.
As a web designer, it is difficult to attractively display a website for ALL the possible screen resolutions, so we design the site for the majority.
What the heck does that mean?
Resolution:
As technology improves, computer monitors become bigger and allow for more display space (or number of pixels).
Design/Layout:
We design the webpage layout so it will display correctly for the majority of viewers. If a viewer has a larger monitor than the average, they will have the extra space. (The amount of extra space varies from computer monitor resolution to computer monitor resolution.)
The leftover space is the extra space on the sides of your web site!
How do you determine what resolution to target to minimize "extra space"?
I ALWAYS look at website statistics to help me make critical decisions. Here are some real statistics from this website.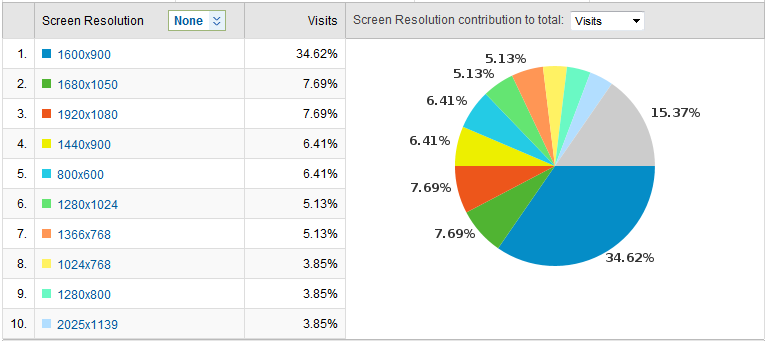 As you can see, 93% of viewers have resolutions widths of 1024 or greater!  So, 1024 is a safe number to target. 1280 would cover 90%!
Technology Changes…
Technology is ever evolving so these resolutions change all the time. Here is a chart of resolutions in 2008.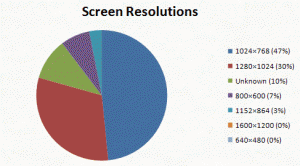 See the huge change in resolutions! 1024 went from 47% in 2008 to 4% in 2011. Wow!
Choose wisely!
If you choose too large of a resolution, a visitor that has a smaller resolution will have to SCROLL left and right to view the site! This is very annoying and NOT user-friendly.
–Iowa Web Guy