September 12th, 2011 → 11:06 pm @ iowawebguy // No Comments
I was sitting with a new client today and one of the first questions she had was "Why do I have a lot of 'empty space' on each side of my web site?"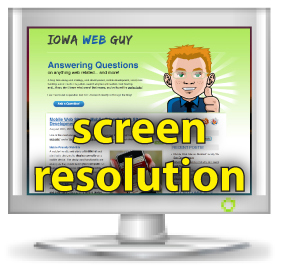 I immediately thought, "I need to blog about this!" I get this question ALL the time when I'm talking with people when discussing web site layout.
The answer is a little complicated, but here we go:
Computer monitors vary in "screen resolution" or available display space.
As a web designer, it is difficult to attractively display a website for ALL the possible screen resolutions, so we design the site for the majority.
What the heck does that mean?
Resolution:
As technology improves, computer monitors become bigger and allow for more display space (or number of pixels).
Design/Layout:
We design the webpage layout so it will display correctly for the majority of viewers. If a viewer has a larger monitor than the average, they will have the extra space. (The amount of extra space varies from computer monitor resolution to computer monitor resolution.)
The leftover space is the extra space on the sides of your web site!
How do you determine what resolution to target to minimize "extra space"?
I ALWAYS look at website statistics to help me make critical decisions. Here are some real statistics from this website.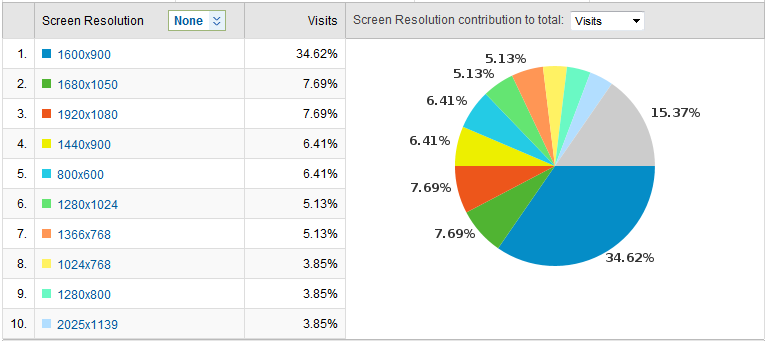 As you can see, 93% of viewers have resolutions widths of 1024 or greater!  So, 1024 is a safe number to target. 1280 would cover 90%!
Technology Changes…
Technology is ever evolving so these resolutions change all the time. Here is a chart of resolutions in 2008.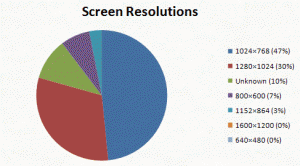 See the huge change in resolutions! 1024 went from 47% in 2008 to 4% in 2011. Wow!
Choose wisely!
If you choose too large of a resolution, a visitor that has a smaller resolution will have to SCROLL left and right to view the site! This is very annoying and NOT user-friendly.
–Iowa Web Guy